Climbing Mt. Agassiz
7/14/2001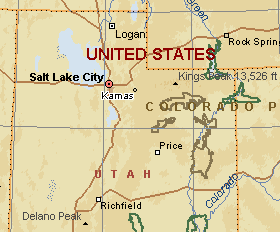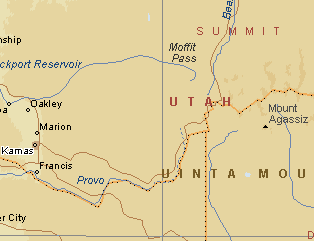 This trip was originally planned as a weekender, but ended up being just a day long, due to monsoon rains that hit the Uintas on Saturday evening shortly after we finished the hike. We started the hike at the Highline Trailhead, and followed the trail for about a mile. After the Wilderness boundary, we walked through the forest (crossing a lot of dead trees) to a small basin southwest of Agassiz, and then up the slope to the western ridge. From here, we climbed, mostly under the ridge, to the flat summit. This all took about 3 hours. We descended through the southern slope to a first saddle and then down west. First part was a simple hopping down the rock-covered slope, second half was a bit tricky descent via a narrow chute through a prominent cliff band. Then followed more forest walking and then ca. 2 miles back on the Highline Trail. The return took a bit longer due to the tricky descent, ca. 3.5 hrs.
Here is map (260 kB) of the whole hike.
Fotos
Click on the picture to display the original size.

1.

Walking through the dense forest.
2.

View at Agassiz from the end of the forest.
3.
View on the slope which we climbed up.
4.

View down (towards Bald Mtn. and Reids Pk.) from the same spot.
5.

View up the slope a bit closer.
6.

View down from the same spot.
7.

View down from about 1/2 of the climb to the ridge.
8.

Partial panorama from where we reached the ridge.
9-10.


Rob and Mari when we reached the ridge.
11.
View up the last portion of the ridge before summit plateau.
12.
View down (west) from the same spot.
13-14.

Summit panorama, divided into two due to the flatness of the peak.
15.

Sitting at the summit (Rob reading entertaining entries from the summit book).
16.
Mari hopping down the southern slope.
17.

View down (west) the slope we went down.
18.

View down the crack in the cliff band that we used to get down (class 3).
19.

View up from the same spot, start of the chute down.
20.

View up from a spot where the chute exits the cliff band.
21-24.




The rest of the team descends the chute.
25.

View down the slope below the cliff band.
26.

View up from the valley bottom onto the chute we went down (on the left in the picture).
27.
View at Mt. Agassiz from one of the meadows we crossed on the way back.


---
---
U of U / CHPC / Cuma / Travel / English / Agassiz 01
URL: http://www.chpc.utah.edu/~mcuma/agassiz01e.html