Skip map to see list of images
Or:
Follow the trail with the mouse.
Hold mouse over the map where the cursor changes to hand to see the description.
Click to view the image.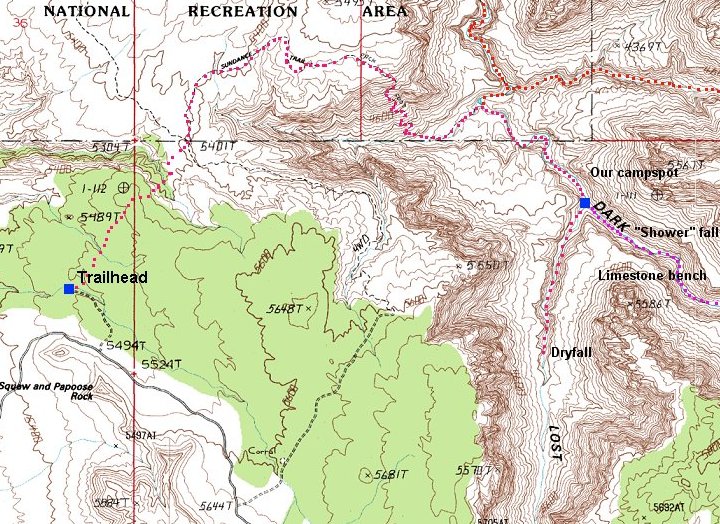 1. My car at the trailhead, Henry Mtns. in the backgound.


2. On the trail near the trailhead, note the bushes in bloom.


3. Going down the first slickrock bench


4. Another slickrock bench near the main descent


5. Panorama from the slickrock bench with first views of Dark Canyon


6. Another bench descent and closer look to Dark Canyon

7. Dark Canyon panorama from the canyon rim


8. Closer canyon panorama from beginning of the descent


9. On the upper part of the descent, view down


10. On the upper part of the descent, looking up

11. Another shot from the Sundance trail, in the lower part


12. View up the side canyon into which Sundance Trail descends


13. View down the side canyon


14. Area where Sundance trail hits bottom of Dark Canyon, Lean-to Canyon is behind the turn on the left


15. Cactus in bloom near the canyon bottom


16. Lost Canyon confluence, marked by a little cottonwood forest, from the Lost Canyon


17. Our campspot across the creek from Lost Canyon

18. View up Dark Canyon from our campspot


19. View up Lost Canyon from our campspot


20. Walking on the sandstone bench in the lower Lost Canyon


21. The first limestone step


22. Another sanstone bench a bit higher


23. Climbing up another step


24. Bypassing the first pool


25. View downcanyon from above the second pool


26. Bypassing another pool


27. View downcanyon from under the tricky dryfall


28. Tricky dryfall where we turned around